Danyu's silicone rubber heaters are made of glass fiber reinforced silicone rubber, which is moisture and chemical resistant. Thin, flexible silicone rubber heater elements are designed to meet the requirements of a wide variety of low and medium temperature applications requiring irregular shapes, sizes and dimensions. Silicone heaters are known for their unique and flexible properties that can withstand mechanical shock and vibration.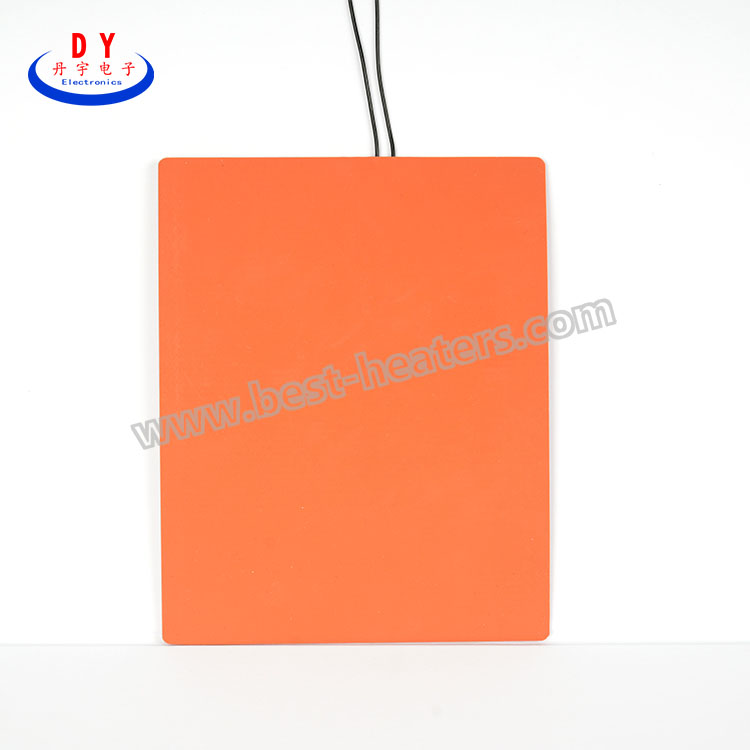 The silicone heating element has unique qualities such as high dielectric strength, non-toxic, and flame retardant. Silicone heaters consist of two silicone "wafers" with a heating resistor sandwiched between them. A thermostat control is an option used to help achieve the target temperature. Teflon wire can exit from any location you choose and is available in any length you require.
Silicone heating elements are ideal for installation in applications requiring direct heating such as surfaces, barrels, cones as well as traditional electric heating elements and some cylinders and small areas where they cannot be installed. Adhesive backing is also provided to aid in securing. Silicone rubber heaters are used in applications requiring temperatures above 450 degrees Fahrenheit, such as freeze protection for electrical enclosures.
This Silicone Rubber Heating Sheet for Industrial Applications uses Pressure Sensitive Adhesive also known as PSA, which is the easiest way to install. When in use, you only need to tear off the protective paper from the back of the heating sheet to easily stick the heating sheet on the surface of the product. The use of PSA at high temperature will not affect its pasting function.
Silicone rubber heaters are available as wire wound or etched foil. Wirewound elements consist of resistance wire wrapped around fiberglass wire for support and stability. It is resistant to moisture, chemicals and other environmental elements, making them ideal for use in harsh or demanding conditions. It can transfer heat quickly and effectively in use.
Danyu can provide customers with a variety of silicone rubber heating plates in different sizes and shapes to meet customers' needs. Overall, silicone rubber heating plates are a reliable and versatile heating solution that can be used in a wide range of industrial applications.