The design of silicone rubber heaters can be customized according to the ever-changing needs of customers to ensure a perfect match between the heating element and the customer's product, thereby enhancing efficiency. The first step is to design the shape of the silicone rubber based on the customer's product and calculate the heating area. Then, the silicone rubber can be cut according to the drawn shape, reducing costs and optimizing the performance of the heating element.
Silicone rubber is a durable and elastic material that can withstand high-temperature heating. It exhibits excellent electrical insulation properties. The heating element is embedded within the silicone rubber to ensure even heat distribution on the surface. It aims to provide consistent and uniform heat distribution on its surface, making it an ideal choice for various industrial and commercial applications.
Specifications of silicone rubber heaters
The size range of silicone rubber heaters is from 1" x 1" to 18" x 24". If customers require larger heater sizes, we can conduct research and design to transition from etched elements to wire elements.
We also provide various heating elements for silicone rubber heaters, such as Stainless Steel 304, CuNi44, and Inconel600. These elements have excellent dielectric performance and are suitable for various working environments. Here are the main specifications of silicone rubber heaters:
· Maximum power density: 60 W/in²
· Maximum operating temperature: 250°C
· Minimum operating temperature: -40°C
· Power tolerance: ±10%
· Dielectric strength: 1000 VAC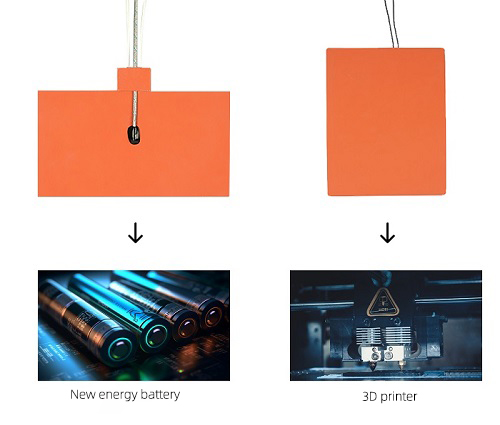 Performance of silicone rubber heaters
Uniform heating: Silicone rubber heaters provide uniform heat distribution, ensuring consistent temperature across the entire surface. This feature is crucial for applications that require precise and uniform heating, such as food processing or medical devices.
Fast heating time: The design of the heating element facilitates rapid heat transfer, allowing it to quickly reach the desired temperature. This property is beneficial for applications where time is a critical factor.
Customizable power and voltage:
The heating element can be customized to meet specific power and voltage requirements, ensuring compatibility with various power sources and integration into different systems.
Temperature control:
The heating element can be equipped with built-in temperature control mechanisms, such as thermostats or sensors, to maintain accurate and consistent heating. This control enables precise temperature regulation and prevents overheating.
Durability: The silicone rubber material used in the heating element exhibits excellent durability, wear resistance, and lifespan, even in harsh environments. It is also resistant to moisture, chemicals, and UV radiation, thereby enhancing its performance and lifespan.