What is a Silicone Rubber Heater?
Etched foil heaters and wire-wound heaters
Silicone rubber heaters are available in wire-wound or etched foil configurations. Wire-wound elements consist of resistance wire wound on a fiberglass thread to provide support and stability. They can withstand repeated bending without affecting their performance and shape. Etched foil can be made from various alloys, including aluminum, stainless steel, non-magnetic nickel-chromium alloys, copper, and constantan, which contribute to their excellent heat transfer capability. Our extensive experience in these materials allows us to design and provide the best solutions for your specific application.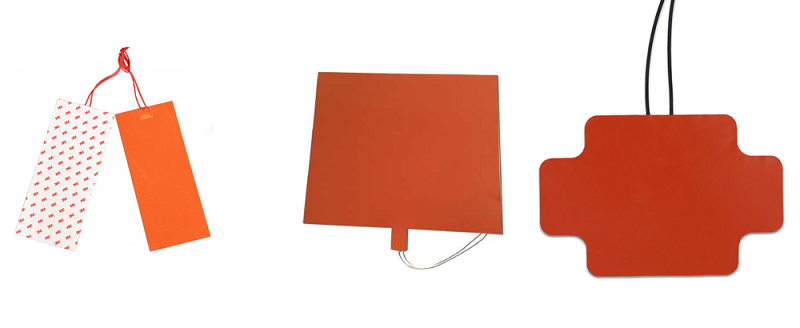 Etched foil heaters utilize chemically etched circuits sandwiched between thin layers of silicone resin, offering rapid heat transfer and precise temperature control. They are recommended for small heaters in high-volume production, outperforming wire-wound elements. Their large flat surface area enables more uniform heat distribution and higher power density, thereby extending the heater's lifespan. For silicone rubber heaters, the leads are then connected to the heater and insulated with additional silicone rubber or epoxy cement to complete the heater.
Comment on silicone rubber heaters
Silicone rubber heaters are widely used in applications that require enhanced heat transfer rates. These heaters are lightweight, extremely flexible, and thin, making them popular across various industries. Most experienced silicone rubber heater manufacturers can provide custom specifications to meet your application requirements. However, this information alone is not sufficient to make a purchasing decision.
Installation methods for silicone rubber heaters
Silicone rubber flexible heaters can be installed on flat or curved surfaces. Their design slightly varies depending on the chosen installation method. Therefore, specifying the correct installation method to the manufacturer is crucial when specifying the design requirements for silicone rubber heaters. Here are several common installation methods for silicone rubber heaters:
Pressure-sensitive adhesive (PSA): PSA is an ideal choice for applications that require economical and quick installation. You can peel off the backing and place the heater in the desired position, achieving a uniform and even bond with the surface.
Mechanical fasteners: These fasteners are commonly used with wire-wound flexible heaters. Guide hooks, eyelets, and latch locks are a few common types of mechanical fasteners.
Field-applied adhesives: These adhesives ensure maximum heat transfer and are chosen when long-term storage and strong bonding are required.
The design of flexible silicone rubber heaters can be customized to meet specific requirements, ensuring full compliance with the demands of a particular application. Whether it's the shape, size, or heating power, adjustments and optimizations can be made according to the customer's needs. Flexible silicone rubber heaters, with their custom design and excellent heating performance, offer efficient and reliable heating solutions while meeting specific requirements. Whether in the medical, aerospace, military, or food service industries, flexible silicone rubber heaters provide superior heating capabilities for various applications, making them an ideal choice across multiple industries.