What does the term Polyimide Heater refer to?
Polyimide heaters, also known as polyimide Kapton heaters, are primarily made from a polyimide film called Kapton, which was developed by the American company DuPont. Kapton exhibits relatively high thermal conductivity at very low temperatures. When Kapton is applied to heating elements, it also possesses good dielectric properties and the availability of thin sheets, making polyimide Kapton heaters a popular material for lower temperature applications.
Polyimide heaters are composed of etched foil components with a thickness of 0.0005 inches or 0.0001 inches, encapsulated between two layers of polyimide film and bonded with a 0.001-inch FEP adhesive. These polyimide heaters have the thinnest profile among flexible heaters, enabling precise heat distribution and excellent tensile strength. Their lightweight and thin design, combined with high power density, allows for precise heat distribution at lower operating costs.
Features and advantages:
Excellent physical and electrical properties: Demonstrates thermal stability over a wide temperature range.
Transparent polyimide material: Enables inspection of internal details.
Radiation and fungal resistance: Suitable for various applications.
Scientific analysis instruments: Provides a constant temperature source for thermal conductivity testers, medical instruments, and maintains stable operating temperatures for electronic components.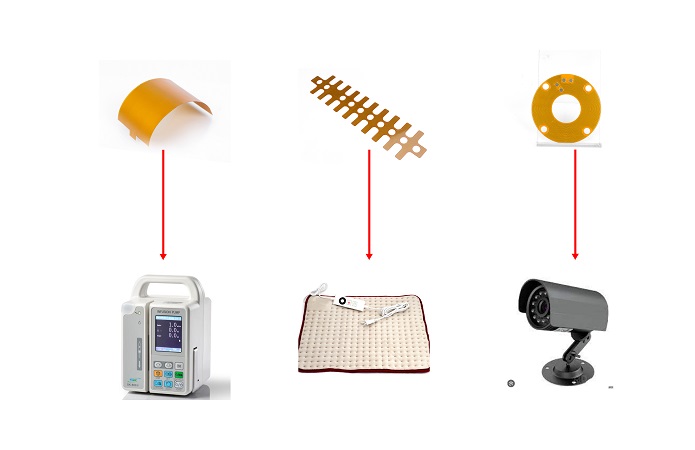 What are the applications of custom polyimide heaters?
These flexible heaters can be customized in various shapes, sizes, and power ratings. Additionally, these polyimide heaters are well-suited for extreme temperature environments and can operate stably in high-temperature environments or enclosed spaces.
Due to the solvent resistance and precise heating capabilities of polyimide, they play a crucial role in heating functions in space or weight-limited aerospace and satellite equipment. They can quickly heat surfaces, especially in extreme temperature environments.
Polyimide flexible heaters made from Kapton material can be designed with different heating circuits to meet specific heating requirements, showcasing the flexibility of these heaters. With their ultra-thin construction and uniform heating capability, they find widespread applications in satellites, aerospace equipment, mobile devices, and other fields.