Are you on the lookout for the ultimate transparent heater supplier to meet all your heating requirements? Look no further than Danyu Technology, the unrivaled industry leader in providing top-notch transparent heaters. With our unwavering dedication to exceptional quality, cutting-edge technology, and unparalleled customer service, we proudly stand as the premier choice for your transparent heating solutions.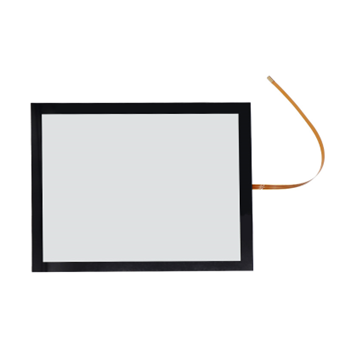 What is Transparent Heater?
A transparent heater refers to a specialized heating device or system that is designed to generate heat while maintaining transparency. Unlike traditional heaters, which typically obstruct visibility or are not transparent, transparent heaters are engineered to provide warmth while allowing light to pass through. These innovative heating solutions are often made using advanced materials and technologies that enable them to efficiently emit heat while maintaining their transparency. It consists of multiple layers, including a PET protect film, transparent conductive film, PET substrate, and an OCA film. This unique structure allows the transparent heater to provide warmth while maintaining visibility, unlike conventional heaters that obstruct or lack transparency.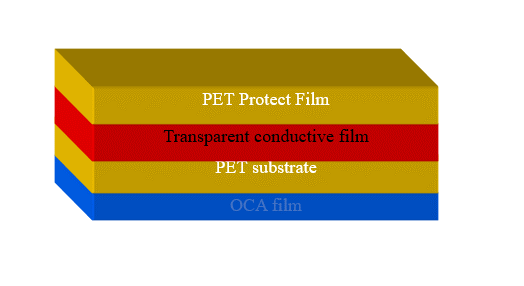 (Structure of Transparent heater)
Unparalleled Product Selection Catered to Your Needs
At Danyu Technology, we take immense pride in offering an extensive and diverse range of transparent heaters, meticulously designed to cater to a wide array of applications. Whether you require transparent heaters for residential, commercial, industrial, or automotive purposes, our extensive product lineup ensures that you can find the ideal solution that perfectly matches your specific needs and preferences.
Elevating Quality and Reliability to New Heights
When it comes to transparent heaters, quality and reliability are of paramount importance. At Danyu Technology, we understand the significance of delivering products that excel in performance, durability, and longevity. That's why our transparent heaters undergo rigorous quality control measures throughout the entire manufacturing process. Adhering to stringent industry standards, we employ advanced testing methods to ensure that each transparent heater meets and exceeds the highest levels of quality and reliability.
Pioneering Technology and Innovation
As a forward-thinking company, Danyu Technology remains at the forefront of technological advancements in the transparent heating industry. Our team of seasoned engineers and researchers is committed to pushing the boundaries of transparent heating technology, constantly striving to develop innovative solutions. By harnessing the latest advancements and incorporating them into our products, we provide you with state-of-the-art transparent heaters that offer unparalleled performance, energy efficiency, and functionality.
Tailored Solutions to Suit Your Unique Requirements
We recognize that every customer has unique requirements. At Danyu Technology, we offer flexible customization options for our transparent heaters, ensuring your heating solution is tailored to perfection. Whether you need specific sizes, shapes, wattages, or other specialized features, our team works closely with you to create a transparent heating solution that precisely fits your application. We believe in going above and beyond to provide you with a solution that not only meets but surpasses your expectations.
Exceptional Customer Service Experience
At Danyu Technology, we value our customers and are committed to providing an exceptional customer service experience. Our dedicated customer service team is ready to assist you at every step of the process. From initial inquiries and product selection to customization options, technical support, and post-sales service, we prioritize your complete satisfaction. We firmly believe in fostering long-term relationships with our customers, serving as your trusted partner in transparent heating solutions.
Unmatched Industry Expertise and Knowledge
With years of experience in the transparent heating industry, Danyu Technology has cultivated unparalleled expertise and knowledge. We understand the unique challenges and requirements of various applications, enabling us to offer valuable insights and recommendations. Our team of experts is always available to guide you in selecting the best transparent heater for your specific needs. We are here to empower you with informed decisions and ensure you achieve optimal results.
Global Reach for Seamless Access
Danyu Technology takes immense pride in serving customers across the globe. With our global distribution network and efficient logistics, we guarantee that our transparent heaters reach you wherever you are. Whether you are located locally or in a far-flung corner of the world, our unwavering commitment to quality and timely delivery remains steadfast.
Trust Danyu Technology as Your Transparent Heater Supplier
When it comes to finding the best transparent heater supplier, Danyu Technology towers above the competition. Our unparalleled product selection, unwavering commitment to quality, cutting-edge technology, customization options, exceptional customer service, and industry expertise make us the ultimate partner in transparent heating solutions.
Make the right choice for your heating needs and experience the remarkable difference that Danyu Technology brings to the table. Contact us today to discuss your specific requirements with our experts and embark on a journey toward efficient, reliable, and innovative transparent heating solutions.
Visit our website https://www.best-heaters.com/ to explore our comprehensive range of transparent heaters and discover why Danyu Technology remains the preferred supplier for discerning customers like yourself.
Remember, when it comes to transparent heaters, Danyu Technology is the name you can trust!